About Us
| | |
| --- | --- |
| Number of Employees | 101-200 People |
| Established in | 1998 |
Wuxi dongsheng spray granulation drying machinery factory is a professional factory for producing spray drying and other drying equipment. The main products are LDZ pressure, LGZ high speed centrifugal, parallel flow three series dozens of specifications. The main performance indexes of the products reach the advanced level of domestic similar products. CAD - aided design is used to make the product portfolio a good choice. Adopt microcomputer or PLC programmable controller to achieve automatic control. I plant overall quality is high, set development and manufacturing as one, and colleges and universities, experts and scholars to cooperate, for users of special engineering design, manufacturing, installation, debugging and technical training.
Our factory can provide reliable, practical, economical and efficient drying equipment for chemical industry, petrochemical industry, metallurgy industry, precision ceramics industry, forest chemical industry, food and medicine industry, etc.
The factory owner set up the factory in 1998. There are 8 workers in total, including 1 technician.After three years of development, the boss has 30 workers, 5 technicians and 3 manufacturing workshops. Meanwhile, the factory technicians begin to develop new spray drying series.After 19 years of development, the factory now has 180 workers, 15 technicians and covers an area of 28,000 square meters.Spray drying equipment increased from one series to four series.
Established in 1990 and located in Wuxi, Wuxi Dongsheng Spray-Granulating And Drying Equipment Factory is specialized in spray dryer with imported advanced European technology and being top leader in this industry.
We are a pilot enterprises with R&D. There are 129 workers and 15 engineers. Our factory occupies 28,000m2.
Our products are widely used in pharmaceutical, food, bio pharmaceutical, chemical, ceramics, and other industries .
To provide users with reliable quality, good performance, economical,practical ,energy saving and high-efficiency spray drying equipment,we have spray drying equipment in our workshop for mass production and small test.
Our factory is ISO9001:2000 certification enterprises.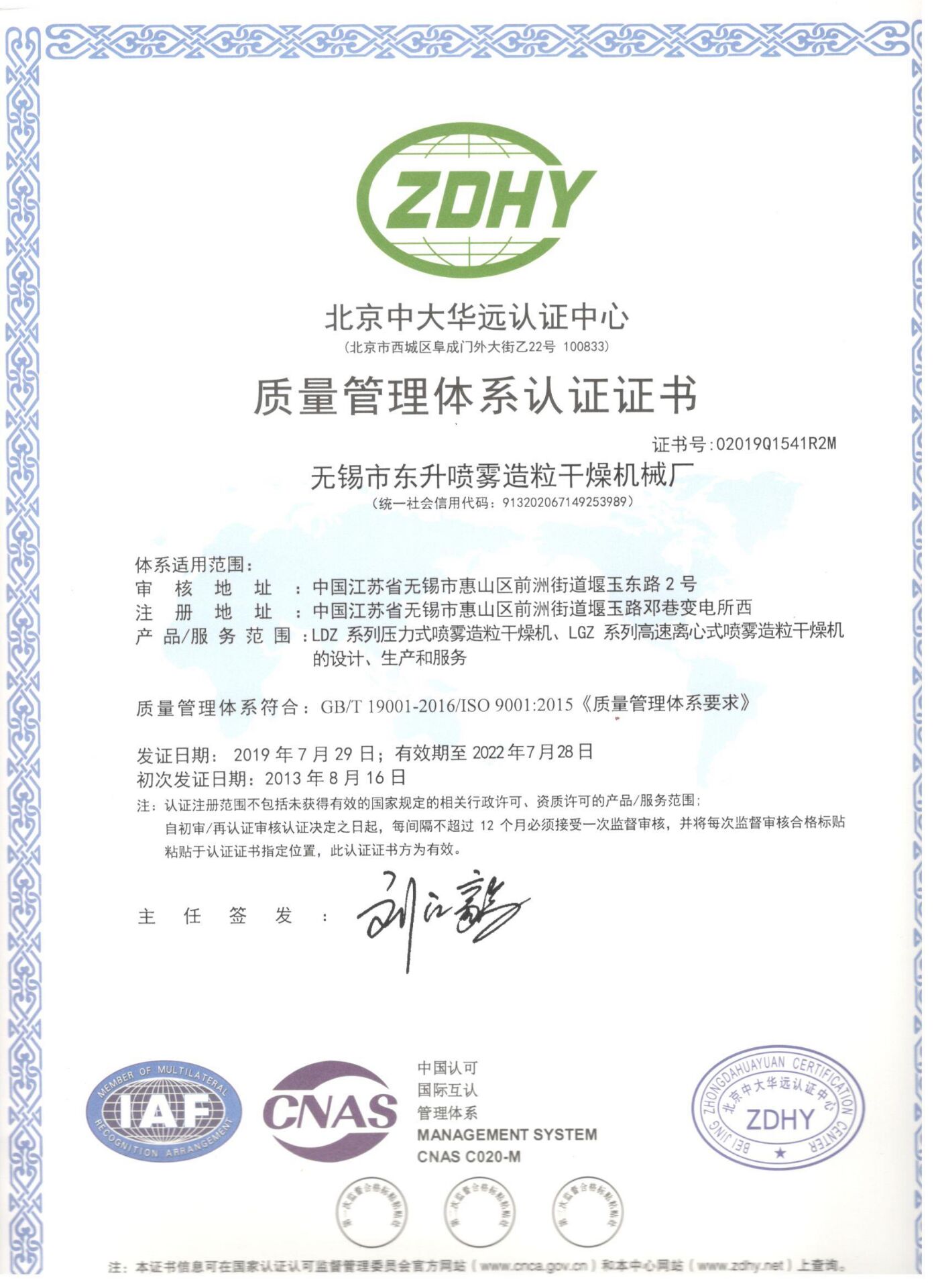 The factory has modern processing equipment, spray drying equipment important parts are processed and assembled in the factory.
The products produced by the factory have more than 2000 users in China, and the equipment has been exported to Japan, South Korea, Russia, the United States, Ecuador, Iran, Indonesia and other countries.
The factory makes technical solutions according to the information provided by customers before sales, and provides equipment flow chart for customers' reference.The factory has an equipment testing area, where customers visit the factory and prepare materials for testing.After signing the contract, the factory will provide customers with all equipment related materials, the factory will provide customers with equipment installation and debugging services, and provide necessary spare parts.Factory according to customer demand to provide on-site maintenance services.